TranzPort Quote
"FANTILIASTIC! Worked first time out of the box. Seamless installation and instinctive use, an absolute delight. Beautifully designed, compact and light, and feels solid to use."

-Guy Meredith, Composer using Cubase SX
Quick Facts
Wireless DAW control: operate your computer-based digital audio workstation from anywhere in your studio
Compatible with Mac® and Windows®
Supports Pro Tools®, Logic®, Cubase®, Digital Performer®, Sonar™ and other DAW software applications
Two-way interface: get timecode position, track name/number, track volume, pan settings and more via backlit LCD display and LED indicators
Uses high-frequency RF technology: no wires or line-of-sight required, and no added interference
Dedicated buttons for often-used functions, including transport controls, marker/locate buttons, track control (level, pan, solo, mute, record arm) and more
Operates on AA batteries
Small, lightweight design
Footswitch input
Microphone stand mount, custom padded carrying bag, and standard footswitch are available from the on-line store
TranzPort and Adobe Audition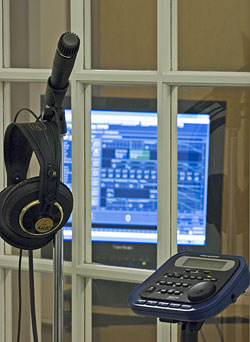 TranzPort, the world's first wireless DAW controller, is a powerful and portable new tool for users of Adobe Audition. Take your music places you never thought possible by stepping away from your computer. Spend more time creating and less time running around your studio workspace. TranzPort has quickly become an indispensable addition in home and professional studios alike.
'Native Mode' support of TranzPort in Audition is accomplished through a special control surface file that is included in the driver installer. Checking the box for the Adobe Audition plug-in during step 3 of the Windows driver installation automatically places the necessary control surface file into the Audition 1.5 folder. For full details on installing TranzPort on your PC check the TranzPort User's Guide (PDF)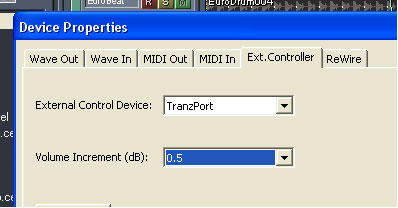 Once the drivers are installed and TranzPort configured for 'Native Mode', open Audition 1.5 and enable the TranzPort as your external controller in the Options/Device Properties window. That's all there is to it.
There are 2 .pdf documents created specifically for Adobe Audition 1.5 users available from the FDG website. The first Audition 1.5 and TranzPort.pdf, contains detailed instructions for configuring the TranzPort for use with Adobe Audition. Information on how to use some of TranzPorts' less-obvious features, as well as a reference chart listing the full set of controls for Adobe Audition 1.5 are found in this useful document.
The second file, Audition Layout.pdf, is a single page picture of the TranzPort with overlaid text also summarizing the Adobe Audition 1.5 feature set. It may be helpful to print this file and have it handy as a quick reference guide.
We encourage visitors to our user forums to post their comments and questions. Other users often have useful ideas and experiences to share, and we monitor the posts to provide additional input.
Below are other TranzPort related links that may be useful:

Copyright &copy 2023 Frontier Design Group